07-03-2013, 10:51 AM
(This post was last modified: 07-03-2013 11:07 AM by jaqattack02.)
1986 300ZX Turbo build
Transferring all of this from another forum. I'll date the posts for when they were made so you can see the progression.
June 2012
Picked up this 86 N/A Z from one of my brother's friends in the beginning of June. My brother is pretty deep into the Z31s, has lots of parts laying around and is always buying, selling, and working on them, so it made sense to get one because he's got plenty of stock parts if I need to replace anything. It seems to be in good shape as far as structure, rust is virtually non-existent so far and pretty solid. It runs, although it's rather rough because of an exhaust leak and having sat for a bit. Clutch is completely fried so it doesn't move on it's own. It will need a front bumper, drivers side fender, and hood, along with a few minor dents that can easily be pulled out. A decent paint job at some point, definitely don't want to leave it smurf blue. Some interior work too, most likely ripping out the blue interior and replacing with black. First thing on the list is going to be pulling the engine, giving it a little bit of a refresh, a clutch, and throwing a stock turbo on it, along with an intercooler.
Picking it up (that's one my brother's friends giant arm in the picture)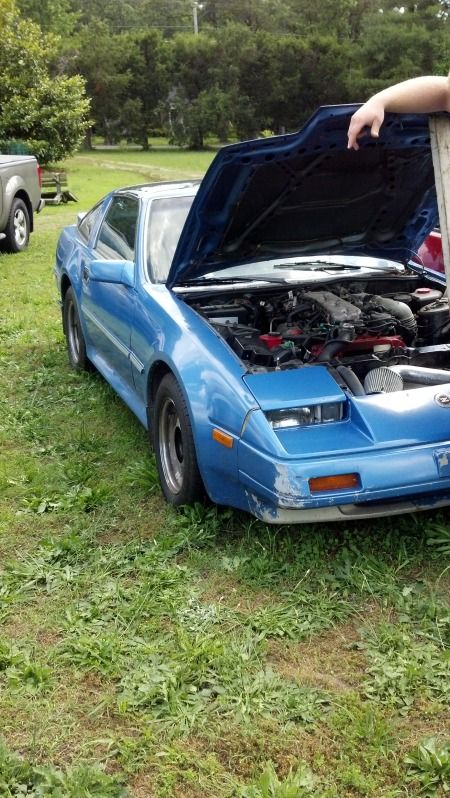 Did some work after getting it home and got the front bumper and intake piping off.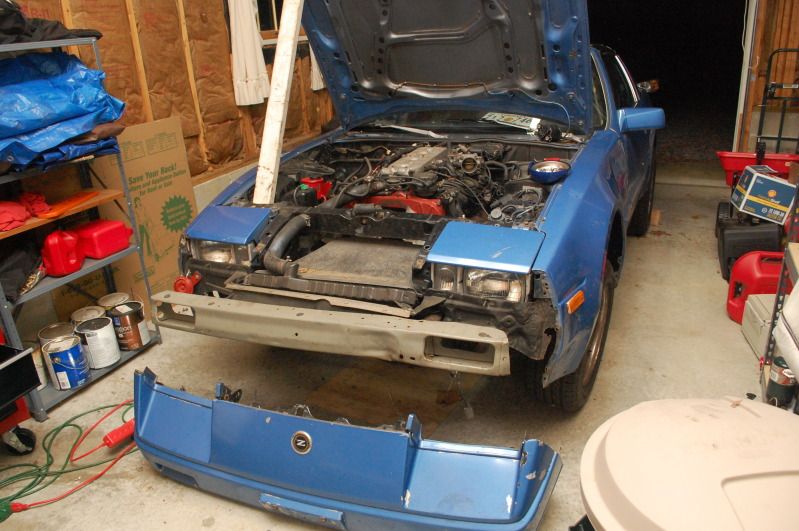 Got my brother over a couple weeks after getting it to get the engine pulled. I got most everything disconnected in the weeks in between.
Kevin (my brother) looking over the engine for stuff to remove/disconnect before we pull it.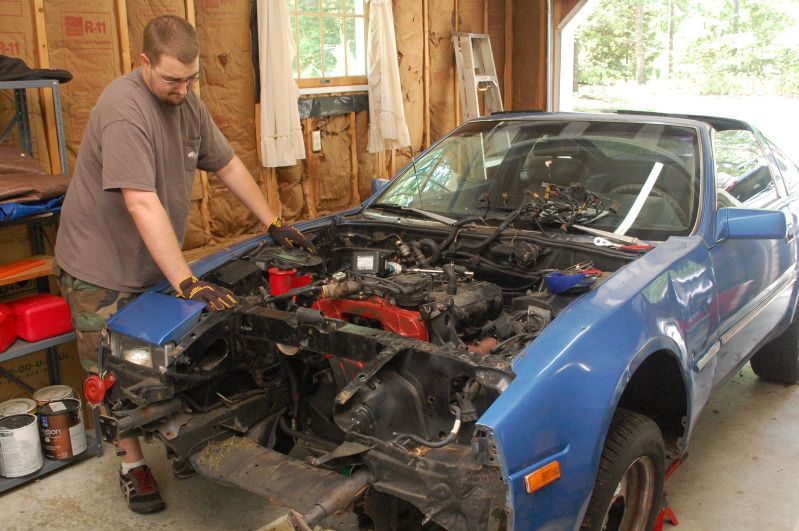 Quick shot of the car with the busted headlight removed and engine ready to come out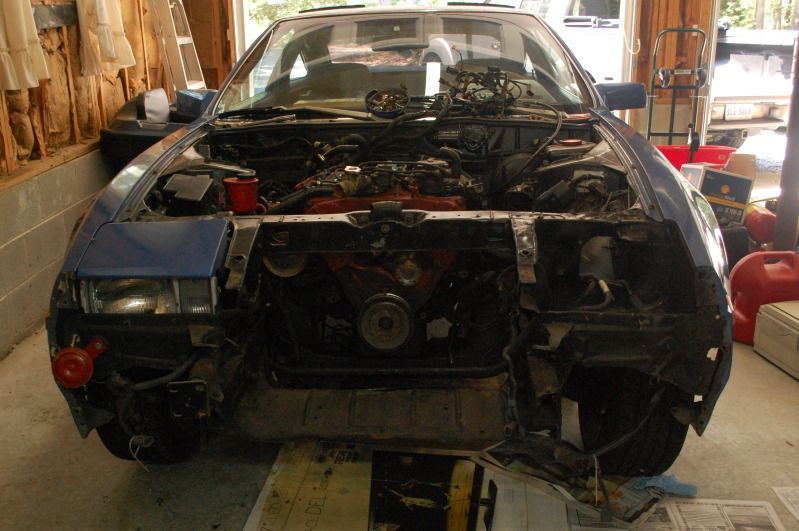 Lift hooked up, ready to start pulling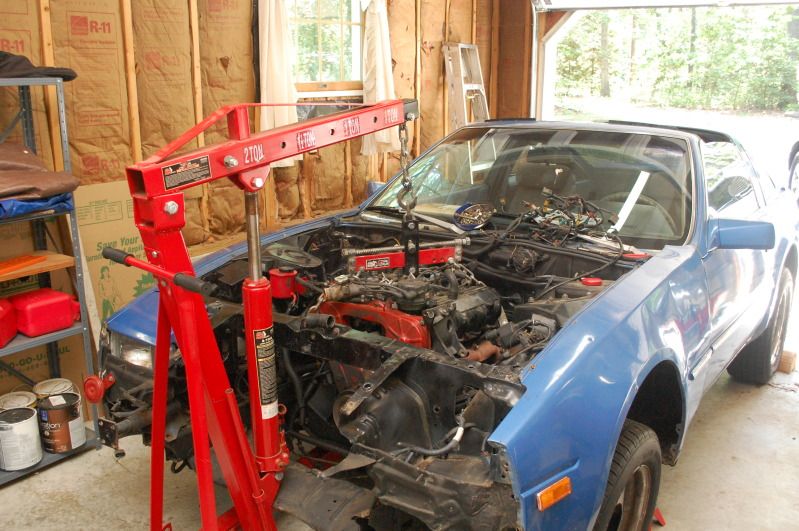 The pile of trash that Kevin pulled off. I was kind of annoyed by this. I didn't know what half of this stuff was so as I was disconnecting things in the weeks prior I was trying to be careful and unhook everything properly, then Kevin gets to work and starts yanking things and tossing them in the floor. Apparently it's mostly emissions junk, besides the N/A downpipe.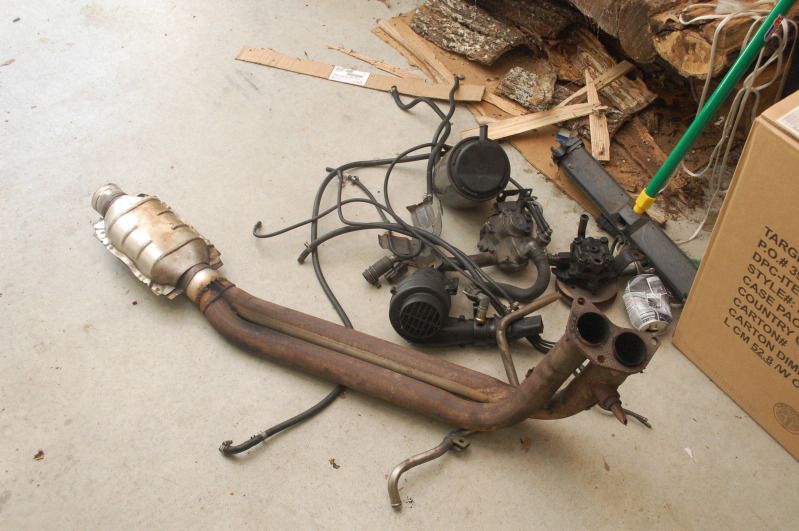 Just about ready to stick it on the stand.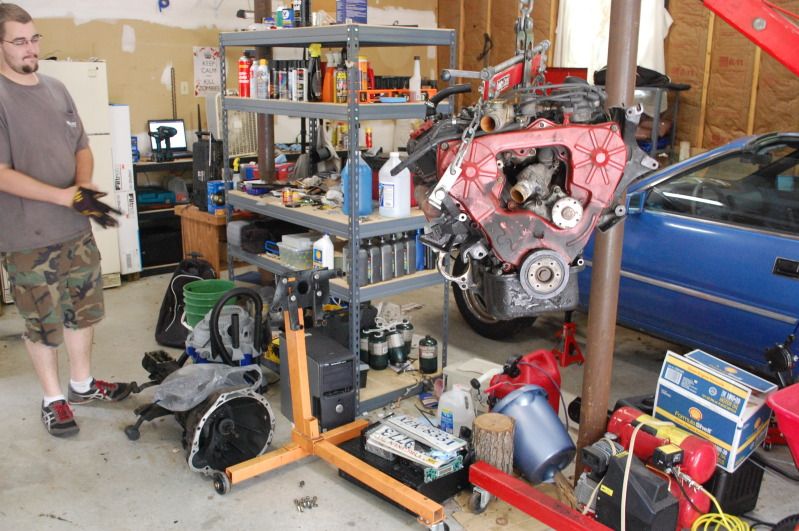 Here's the clutch that came off. The black stuff is bits of clutch material that fell out of the bell housing and off of the clutch/pressure plate as we were pulling it off.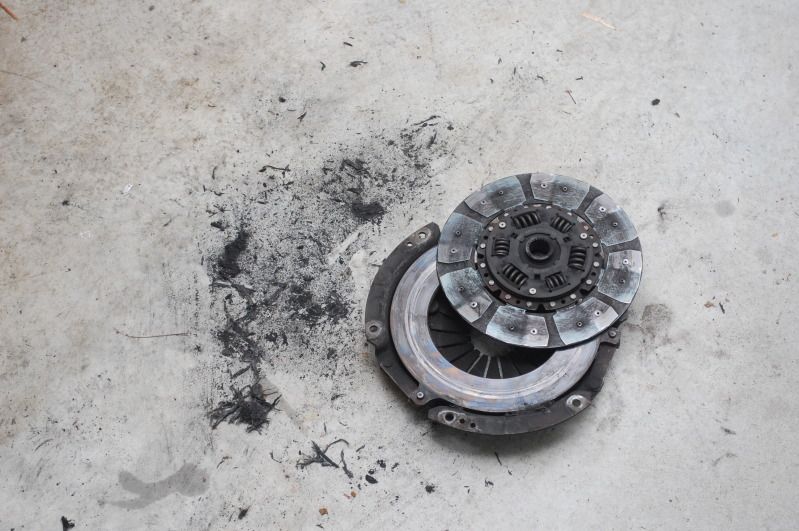 We also made a trip to the shop my brother rents for doing his side work to collect some parts that he and I need (he has an 85 turbo Z that's his DD at the moment).
Here's my truck loaded down with Z parts. There was also a trailer I didn't get a picture of that had a hood, cross member and turbo exhaust manifold on it.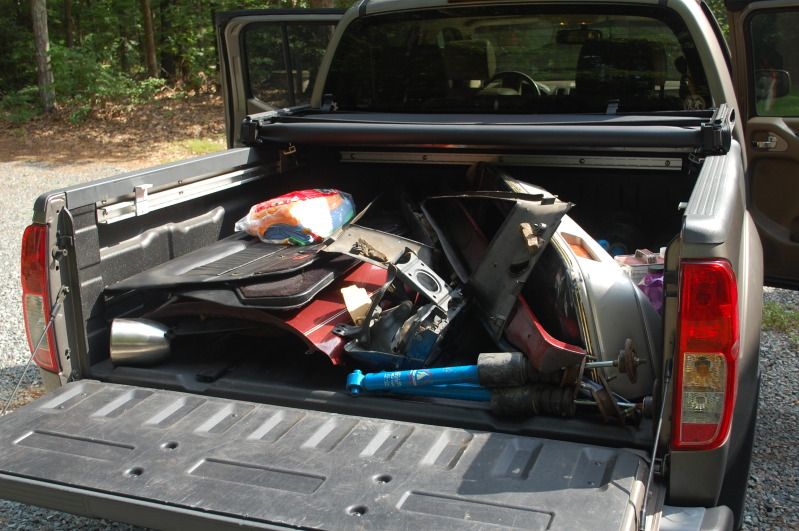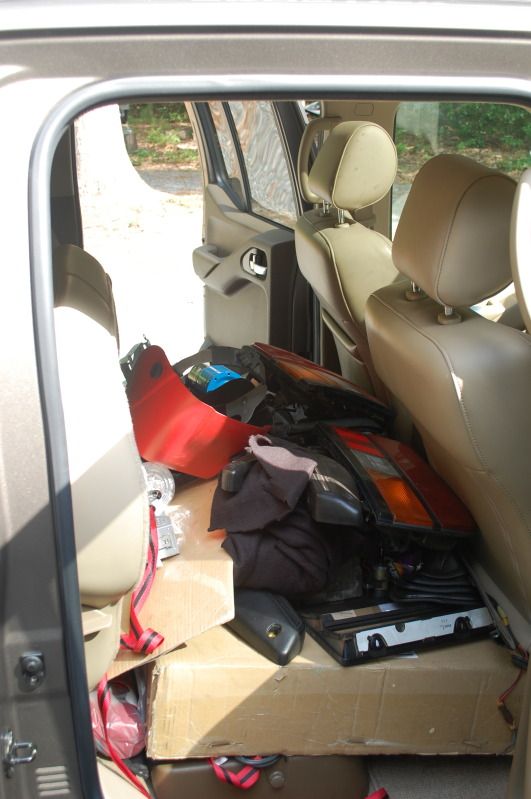 ---
Did some more work the weekend before July 4th, 2012. Started stripping the motor of things that will be replaced. Valve covers for repainting and new gaskets (previous owner caked them with RTV, you can see it around the edges in the pictures, so far it's been a total of around 3 hours getting it all scraped off). Timing belt, tensioner, crank sprocket were all pulled. Replaced the crank and cam oil seals. The tensioner stud was screwed up trying to get the tensioner off, so a new one is on the way from Courtesy Parts. The old one was seized to the stud, we're guessing it was never replaced. Pulled all the exhaust bits and discovered that hardly any of it was tight as it should be, it had the wrong length studs in it (fortunately all but one came out on their own), and there was a missing gasket or 2. I think we counted something like 4 different exhaust leaks. Already have new gaskets and a stud kit has been ordered from ASCO. A couple of pictures were taken. Please excuse the horrible flash usage, Kevin took them...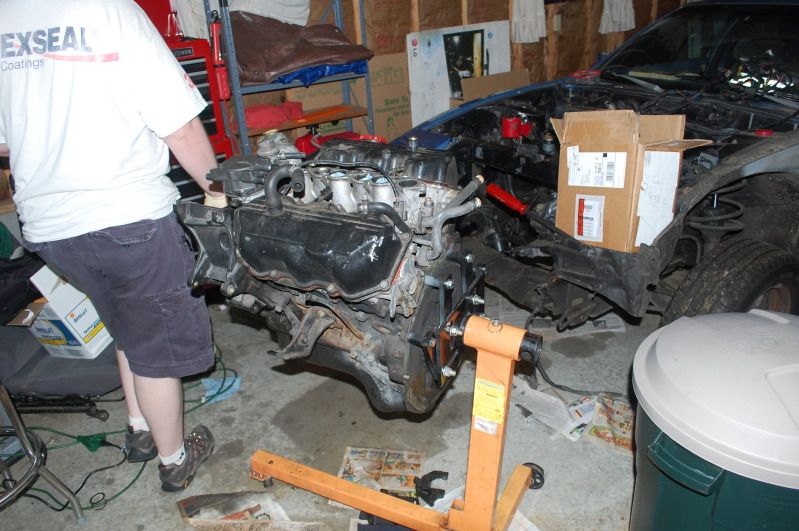 That's me cut off in a couple of these.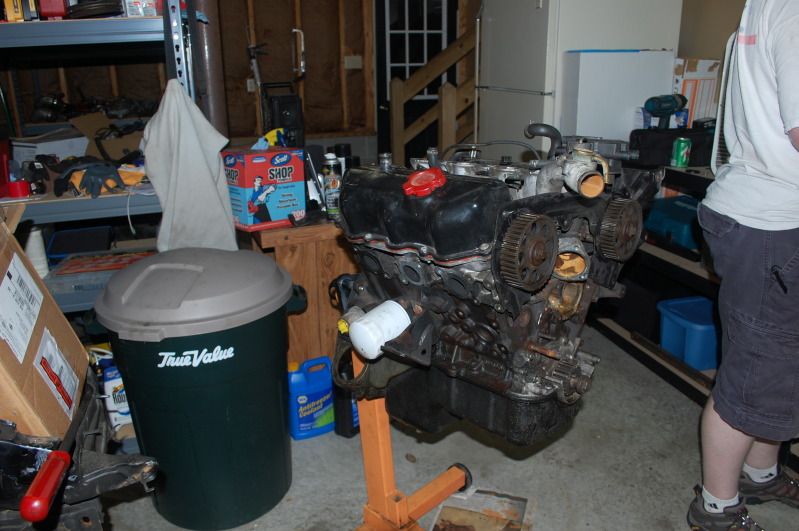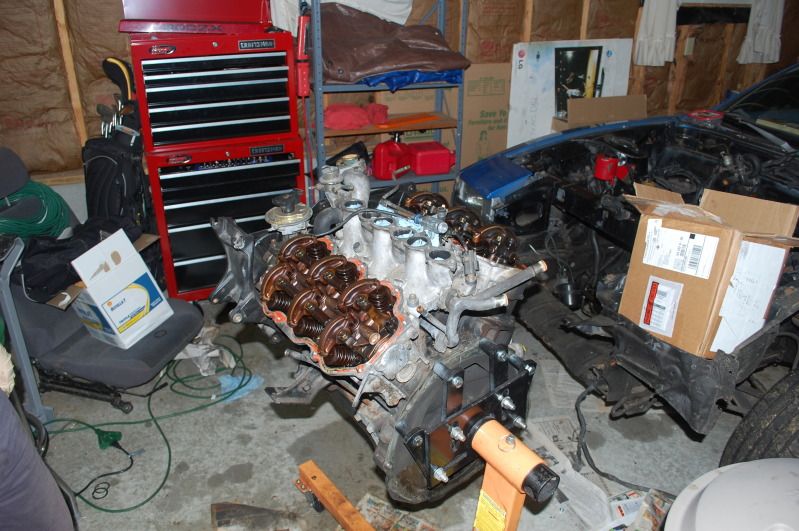 I've done a little work since then. Gotten the oil pan swapped to the turbo oil pan. Repainted the valve covers and have put them back on. Probably going to see about getting the exhaust manifolds reinstalled soon as well. Still need to tear down the T3 I got so I can figure out which rebuild kit to order. Once that has been rebuilt and bolted on, the engine and trans should be ready to go back in.
---
Been neglecting doing updates on here, so here's a few thrown together.
7/27/12
Figured I would post a small update. No fancy pictures this time as I haven't taken any updated ones. Made a trip to the junkyard and snagged the rest of the metal cups for the valve cover screws, so both valve covers are now properly attached. Got the exhaust manifolds bolted up to the engine. Pulled the NA ECU and the factory engine harness. Installed the 84-85 engine harness I picked up from Z31p. Started installing the fuel injectors, but need to see about getting that finished. Found a good T3 and a set of poly engine mounts for a steal of a deal on Z31performance.com, assuming the turbo is in as good of a shape as the seller says it is. Once that stuff is here, the only thing keeping me from being able to get the engine back in the car is picking up a poly trans mount.
8/26/12
Quick progress picture. Engine is all but ready to go back in. Just need to get the oil return for the turbo on it, get the timing covers straight (mine are pretty screwed up, have a new set on the way from a helpful Z31P member), and button up a couple of other little details. I've gotten the turbo cross member in, done the power to manual conversion on my rack and installed that, and installed exactly half of my suspension. The other half is being held up by a ball joint that needs to be replaced in front, and a snapped wheel stud in back (doesn't really affect the suspension, just wanted to get that changed before I did the shock and spring).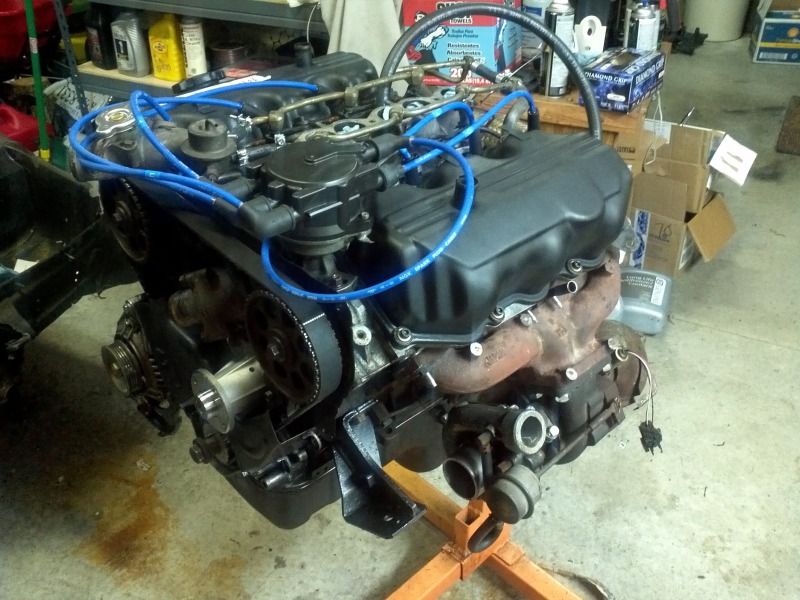 9/6/12
Did a good bit of work over the last couple of weeks. Got the front and rear suspension straight. New Suspension Techniques springs all around, Tokico Blues all around. Got the stud in the back replaced. Also got the front ball joint replaced. This past weekend we got the engine off the stand, flywheel clutch and pressure plate installed, transmission bolted up, and the engine dropped in the car. Bolted up the slave cylinder and found out that was leaking, so a new one is on the way. Need to spend some time getting all the wires and stuff connected so we can try cranking it over soon.
On the lift, my brother is bolting on the flywheel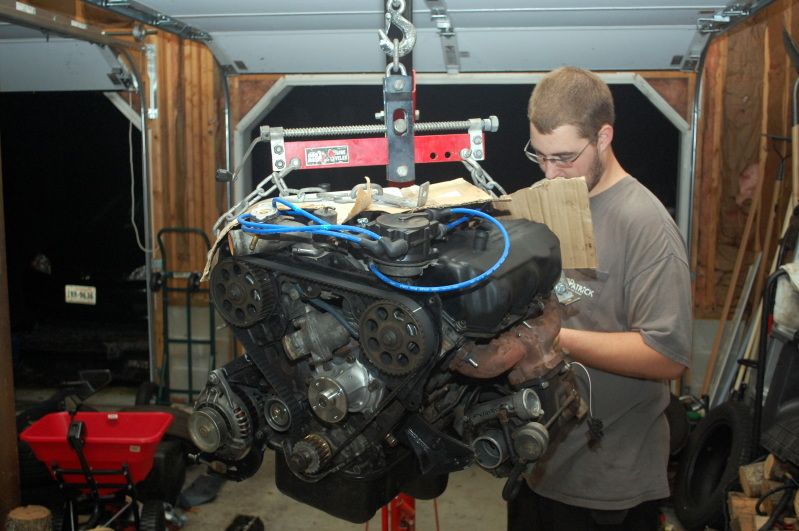 ACT clutch and pressure plate installed (on a 240mm turbo flywheel)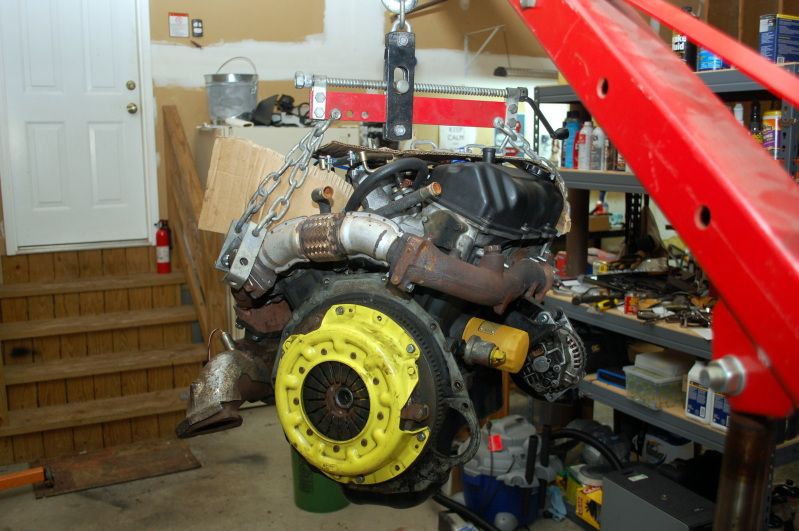 Me working on getting all the trans bolts in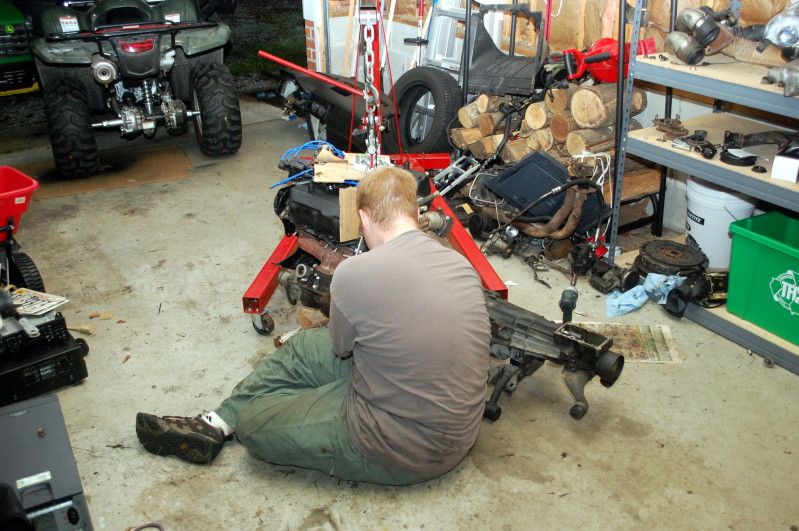 Engine in the car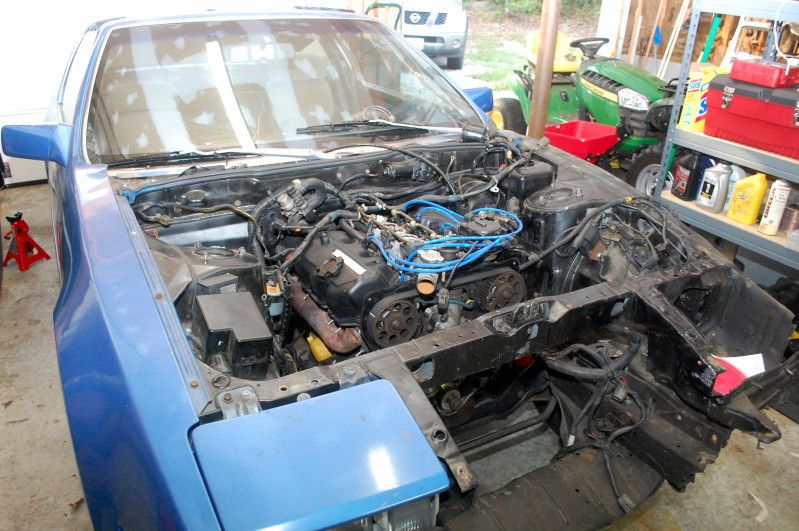 ---
10/15/2012
Ok, time for an update. We've gotten the timing set and got the car to run pretty well. Picked up a turbo Idle Control Valve and got that installed and wired in which smoothed the idle out a good bit.
I acquired a set of 88T hubs, 88T twin piston calipers, and the corresponding working master cylinder (since mine was busted). Those have all been installed along with new rotors. I've gotten my radiator installed, hoses hooked up, and filled with coolant. Kevin dragged his welder over and we welded in a set of brackets to hold the intercooler in place. I've run the piping for the IC, although I ran short on clamps and need to order a few more before that is in solid. I also test fitted the bumper and found I may need to revise the routing of the pipe that goes through the wheel well as it was hitting the bumper. I've swapped the blue dash for a black one that Kevin (Axel Kain) had. Also pulled the center gauge pod and installed a pair of ProSport gauges (boost and wideband O2). CM Performance exhaust has been ordered. Hoping that will arrive pretty soon.
As it sits now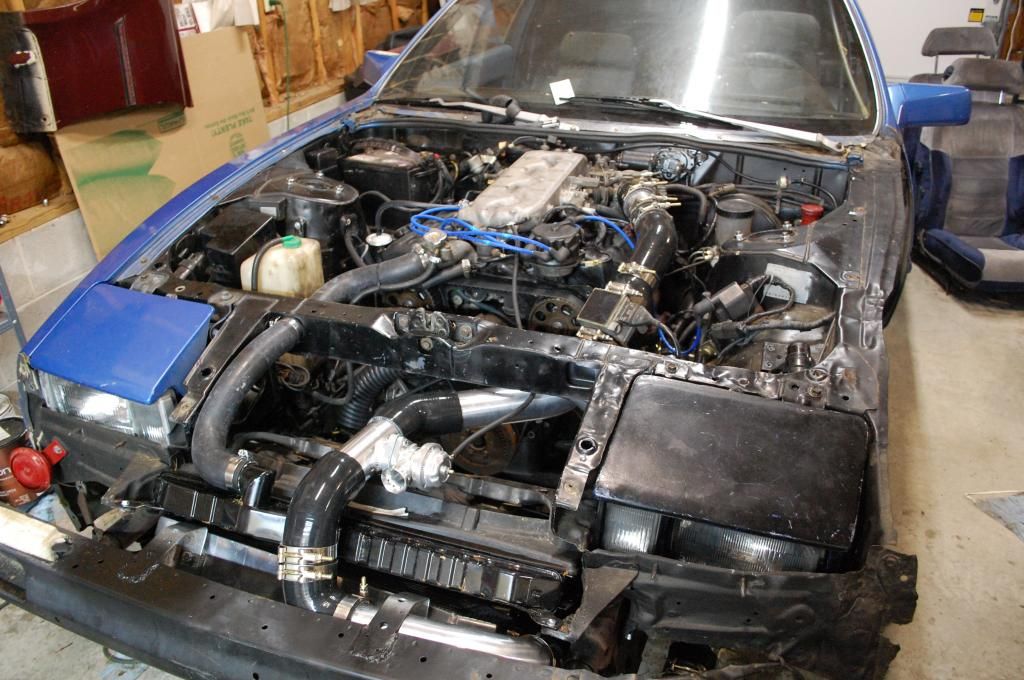 Brakes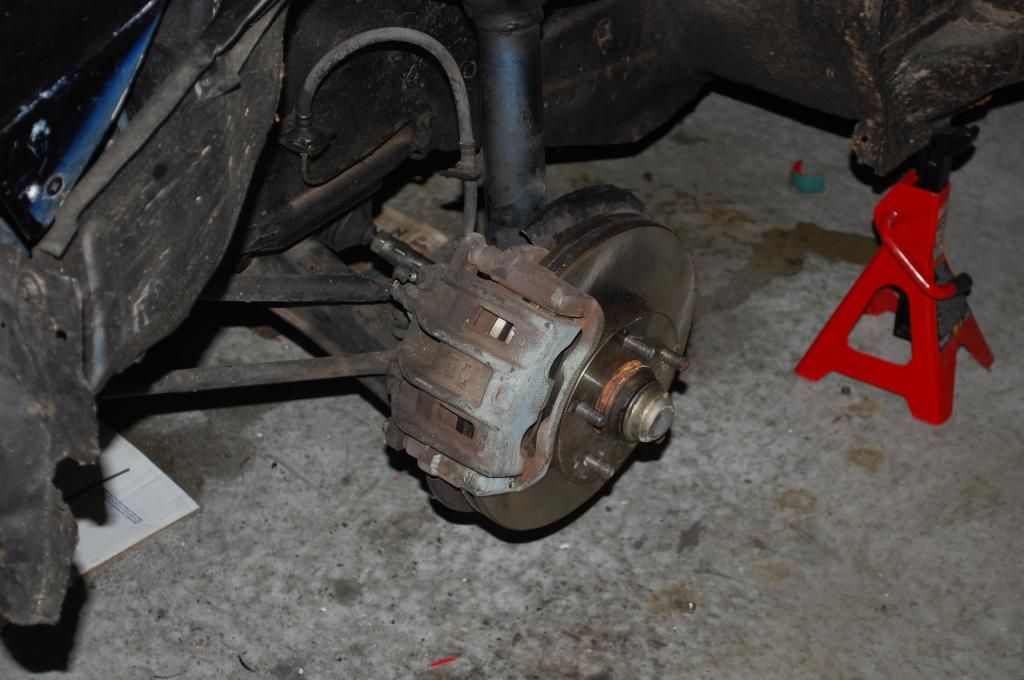 Gauges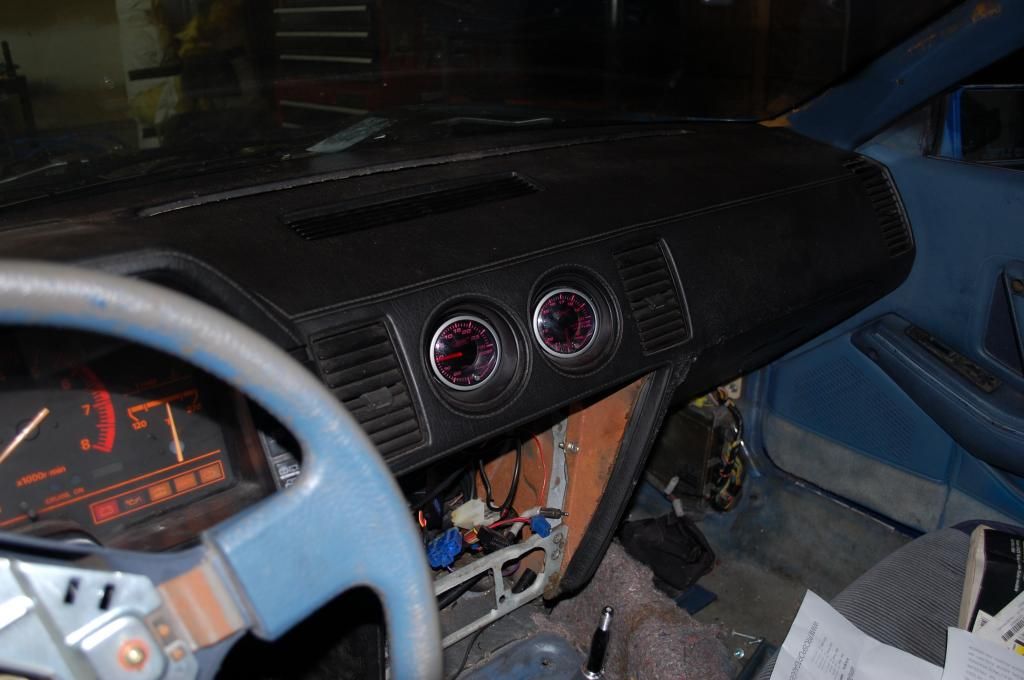 Pipe routing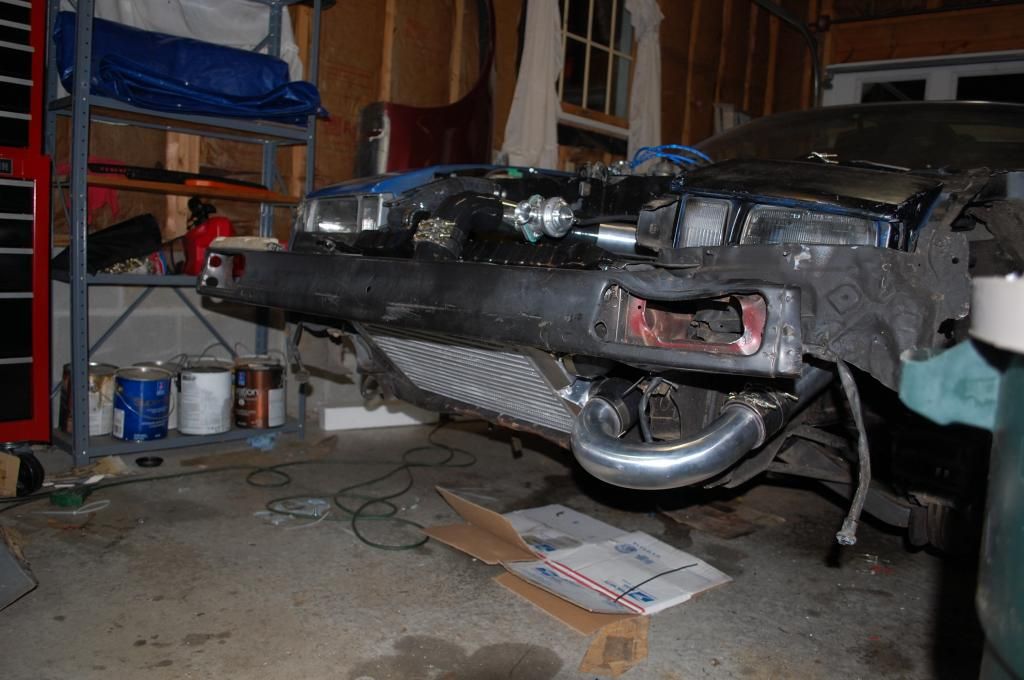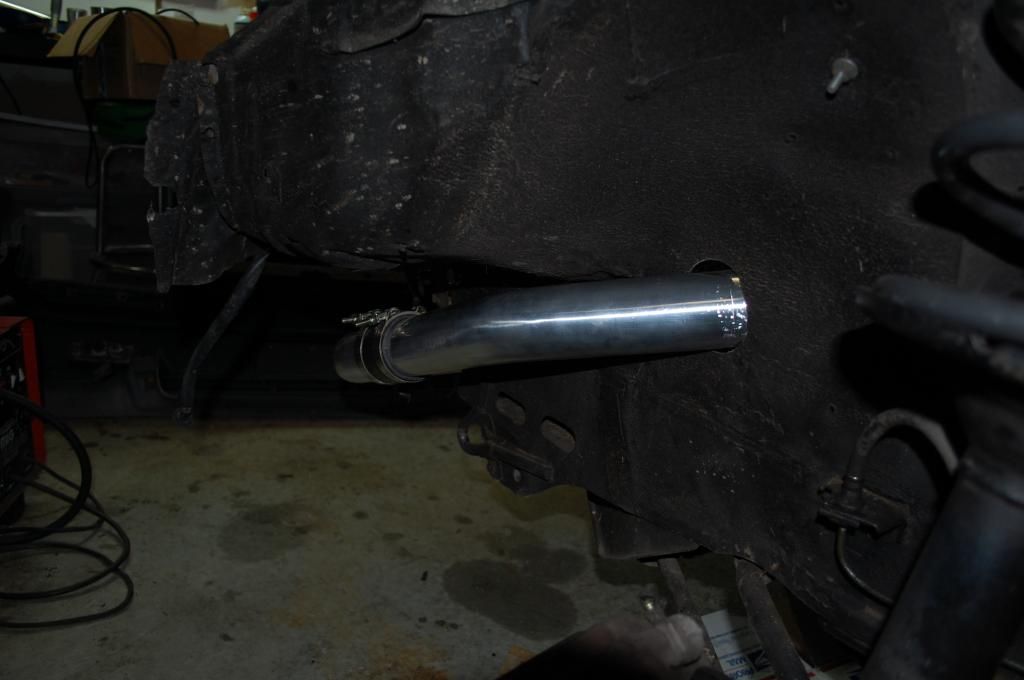 Video of it starting and running. Right now it's just an open dump off the turbo.
http://smg.beta.photobucket.com/user/jaq...1.mp4.html
CODEBASE="http://www.apple.com/qtactivex/qtplugin.cab" height="640" width="425">
---
2/13/2013
So it's been a while since I updated this. A good bit of stuff has been done since then. I picked up a Prothane kit from Acadiana Sportscar Orphanage and a set of 88T tension rods came from my brother. So the front suspension has been torn down and the bushings installed. This has actually taken a couple of months overall due to a couple of unforeseen hold ups along the way (a tap broke while cleaning up some threads that was a pain to get out, and one of the LCA bushings wouldn't install correctly so I had to get a replacement set). Here's a couple of pictures I snapped while doing that.
Here's the LCA after drilling out the mounting holes for the tension rods to accommodate the larger studs on the 88 rods.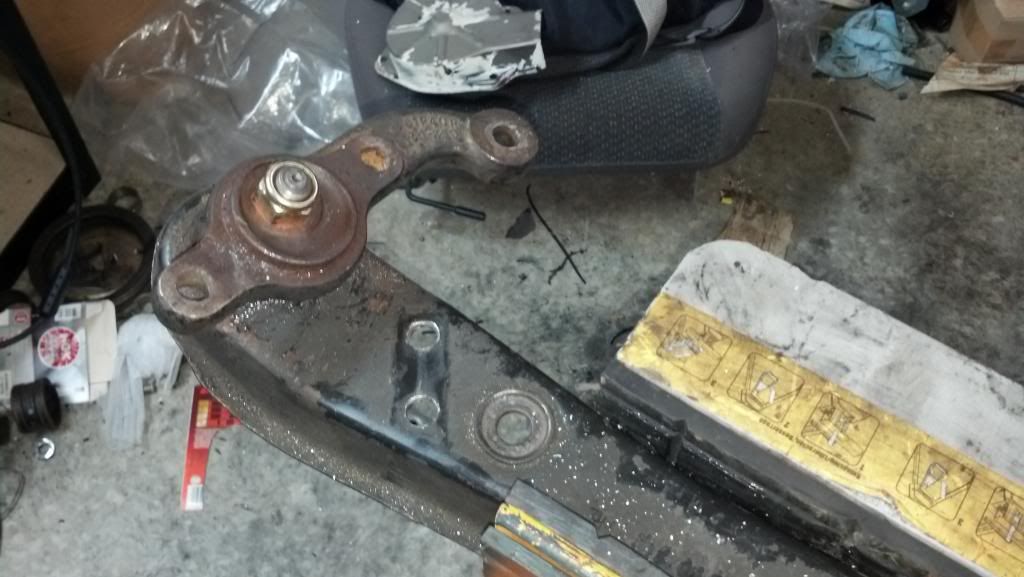 The stock bushing burned out and ready for the new bushing.
The new tension rod and it's mount, with the poly bushings installed.
---
Also during this time I purchased a Nistune ECU and installed a fuel system upgrade. I used a set of flow tested 450cc DSM black top injectors and a set of 3000GT fuel rails. It took a bit of customizing and fiddling to get it to work, but they are installed and working now.
Pile-o-parts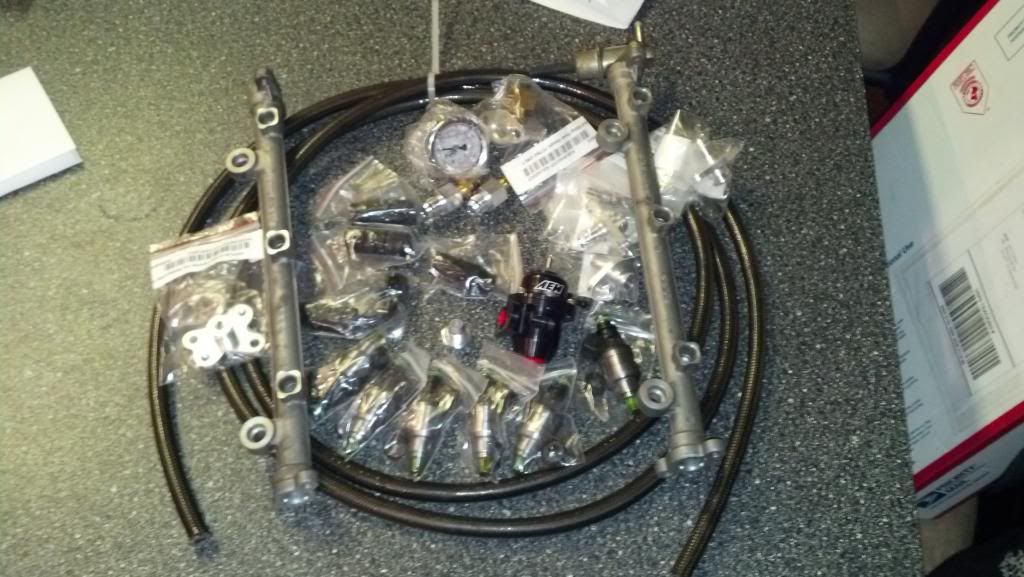 Had to cut and bend the stock crossover pipe to get them to fit. Was planning to use some adapters and AN lines but the adapter wouldn't fit because of the neck for the radiator hose connection.
This is an adapter I found online that allows the use of an AEM FPR designed for use on a Honda fuel rail.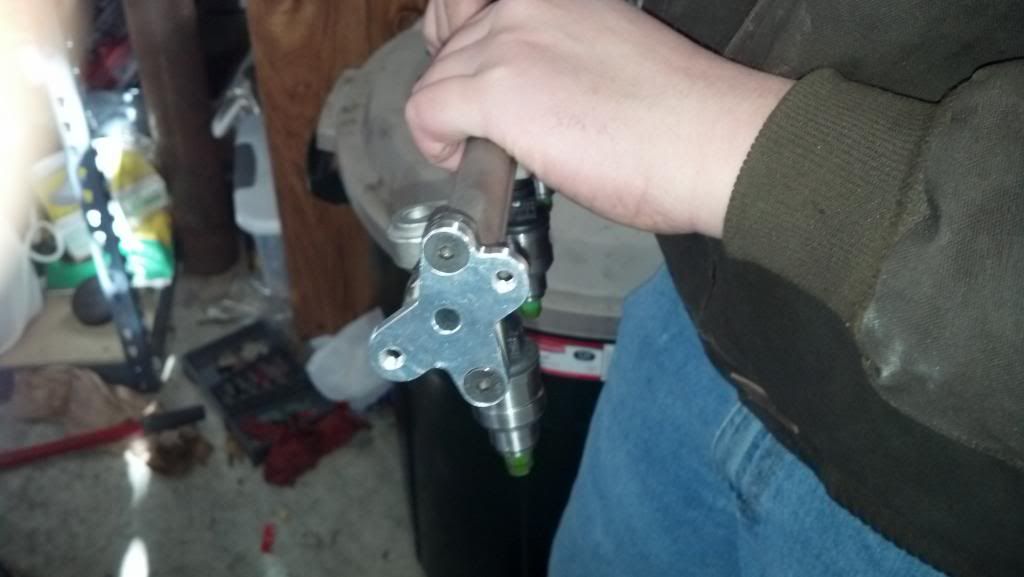 Modified the lower intake manifold to allow room for the crossover.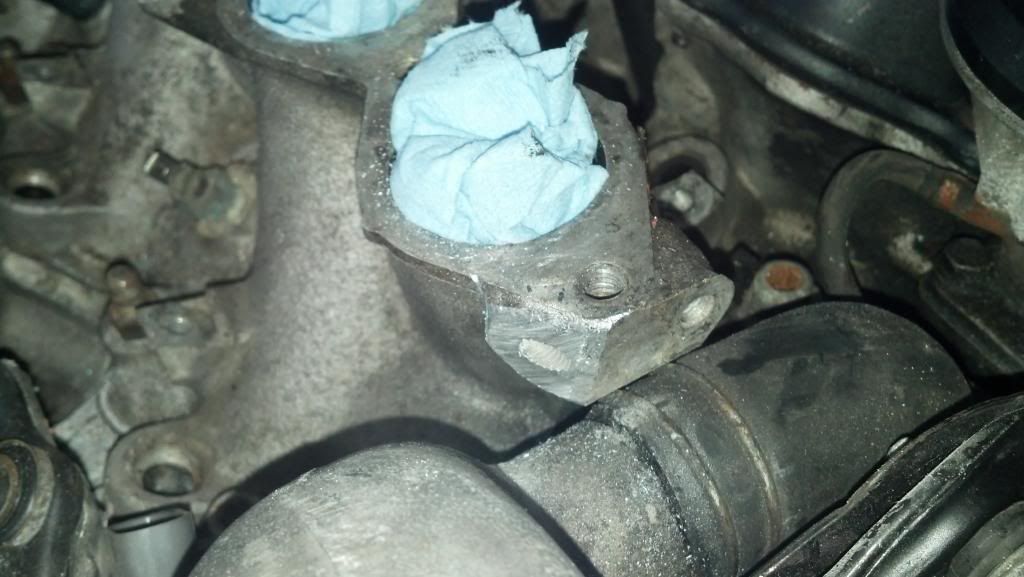 While we were fitting things, making sure the crossover would fit.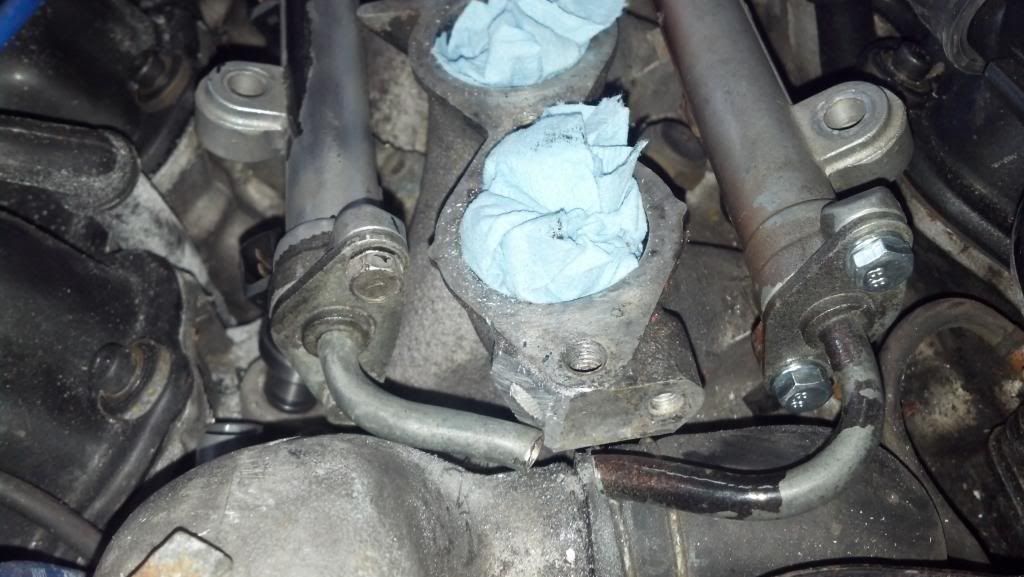 More fitting.
A little more fitting.
A somewhat close shot of the mounting solution we came up with for the rails.
This is a fairly final shot of the passenger side. We ended up having to remove the fuel pressure gauge and the adapter for it because it put the AN right angle fitting too far back and it was hitting the intake plenum. This is also before the fuel return was hooked up.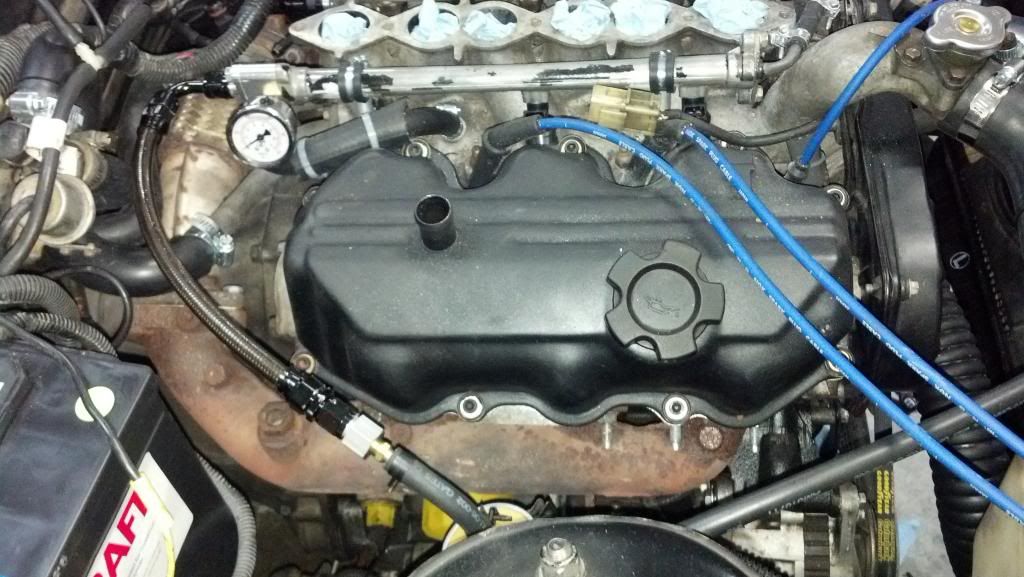 I picked up a set o 17x9" 2003 Cobra wheels that were in awesome shape. Need to get tires for them. They've got 275/40R17s on them, but they are mix and matched tires and all are work out. Planning to stick with that size in the rear and use a set of 235/45R17 in front. Just need to get a 15mm spacer and some extended studs for the front to get everything to clear.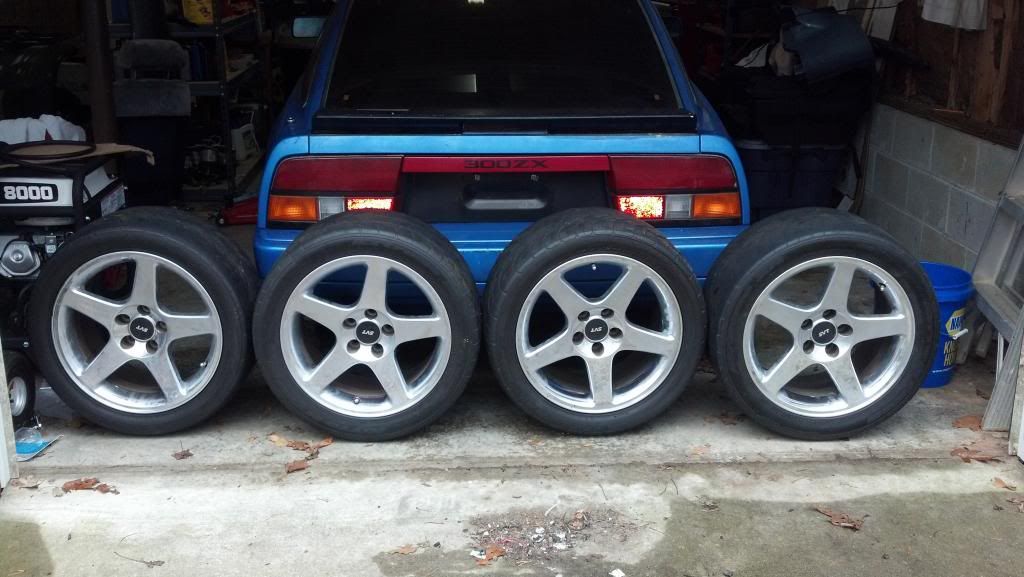 It's also had a CM Performance 3" turbo back installed, which sounds pretty good. I've swapped most of the interior from blue to black. Still need to get some decent seats, probably Corbeaus. Gonna run the stock blue seats till then most likely. Still missing some interior plastics, but it's getting there.
Made a trip out to CAP this weekend and picked up all the parts to swap the front end to the late model style (87-89), so I'll need to get started on that. Most of it is bolt on, just have to drill a couple of new mounting holes for the headlight assemblies.
---
4/18/2013
Finished with the install of the 87 front end I acquired. Not much left to get into a street legal condition.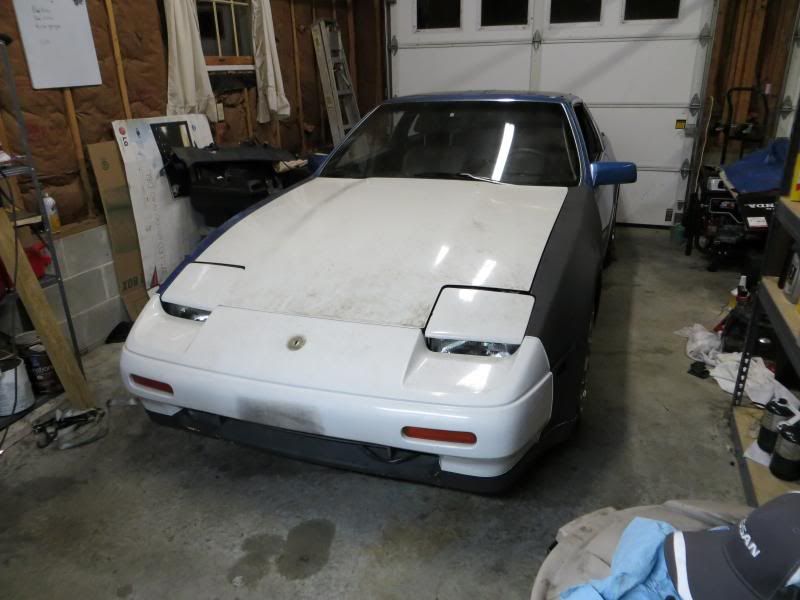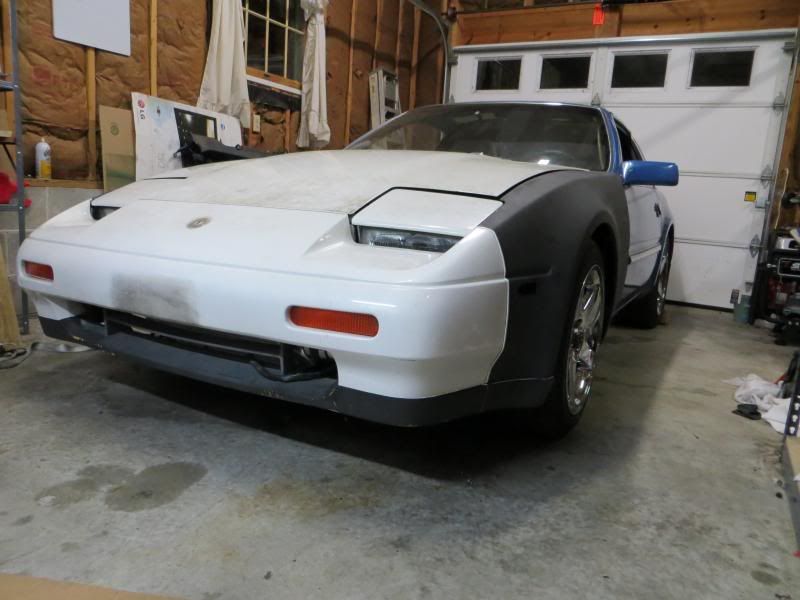 ---
5/15/2013
A couple of small updates. Installed a set of Aerocatch hood latches. Got the ebrake cables installed and the car inspected, so it's road legal now. Sorted out a few vac/boost leaks and it drives way better. A little rich in boost, but nothing terrible. Just need to play with the tune some more. I've been driving it around a bit locally to give things a chance to run and make sure it's all set before I go too far from home. Also finally got a set of hood strut hardware and new struts, so no more 2x4 for the hood anymore.
Here's a few pictures I took after getting back from a short drive.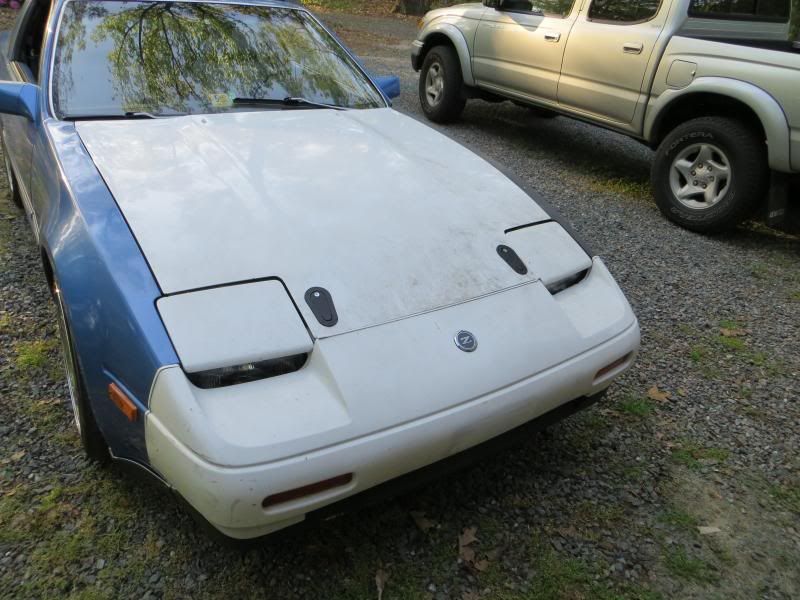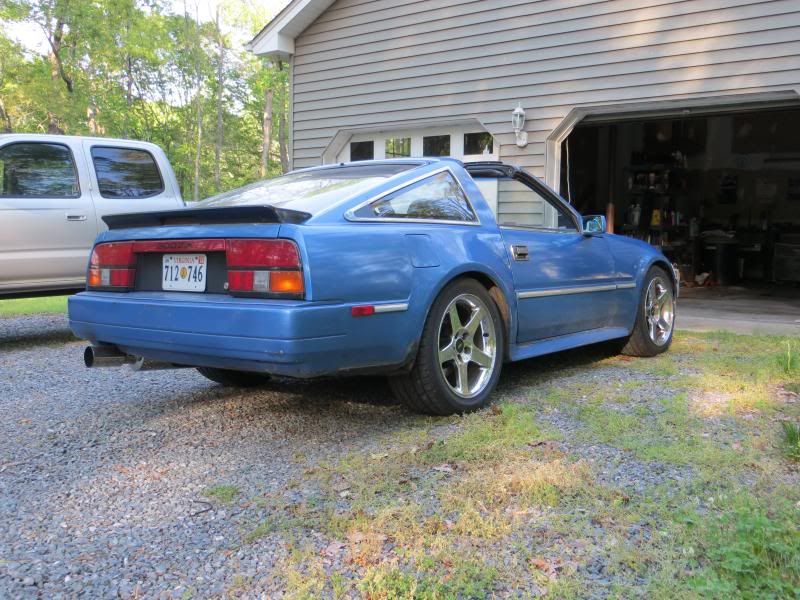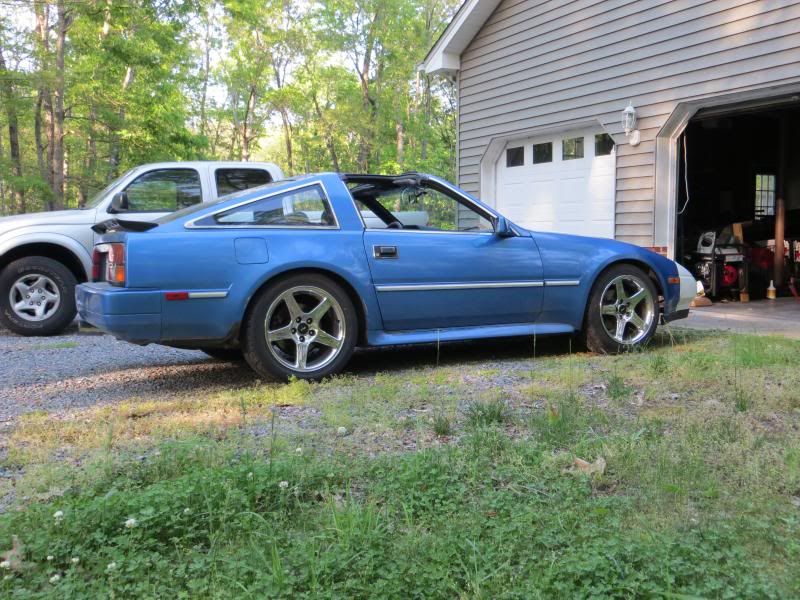 ---
6/9/2013
Found a deal on another 86 300ZX down in NC, this time an original turbo. Super straight body (at least structurally, there a couple of dents that look very fixable), but with a blown up engine. Looks like the timing belt tensioner went out. Got it for a pretty good deal and brought it home. Overall in great shape. Going to swap all the goodies I've put on the blue Z into this one, including the entire engine, then get rid of the blue chassis. Looks like the previous owner was very meticulous with the car. Has a stack of maintenance receipts going back to 2000, and even included the original window sticker. Looks like it's been a well taken care of VA/NC car it's entire life, which explains the lack of rust. It has a banged up drivers fender, which is easy to fix, just have to replace the fender. There is also a decent dent in the back near the tails, but that looks fixable as well.
Grabbed a few pictures after getting it home.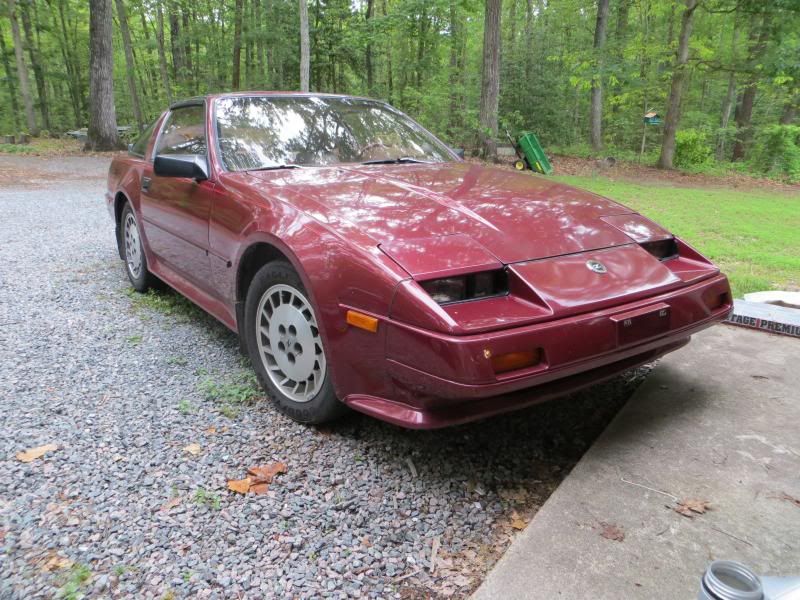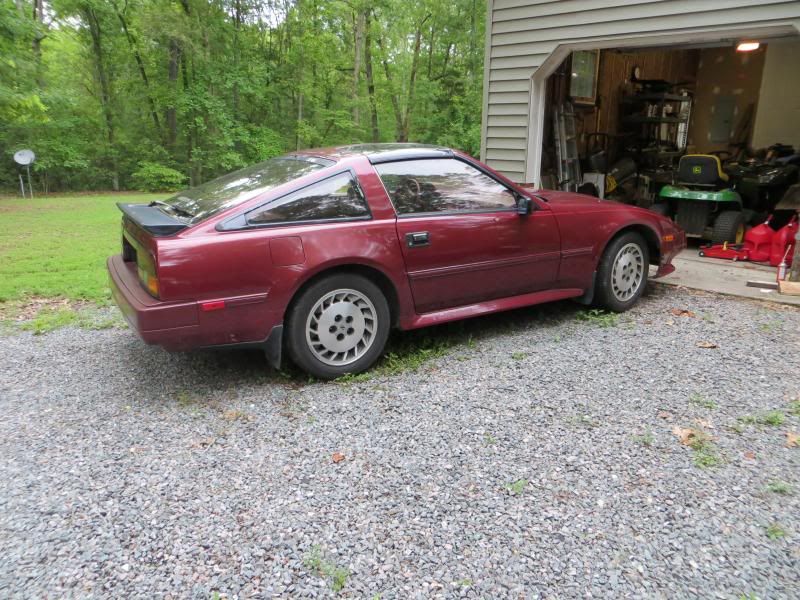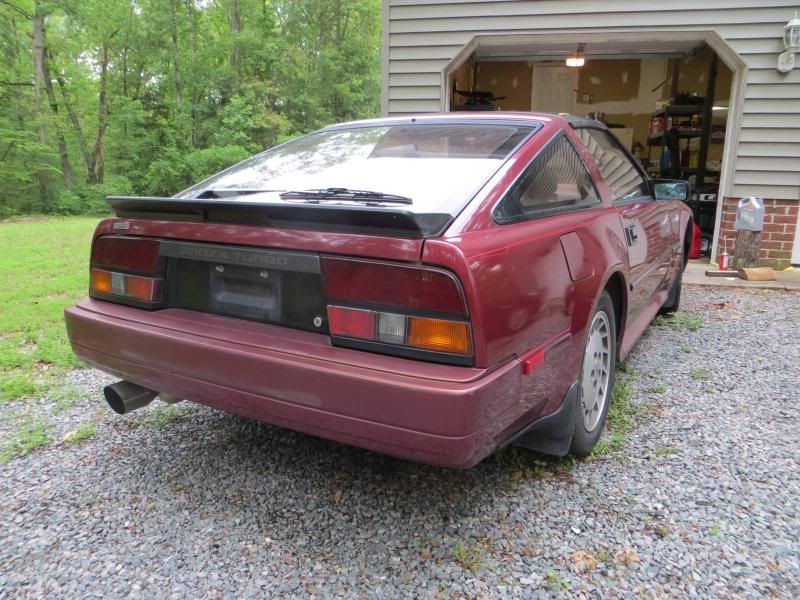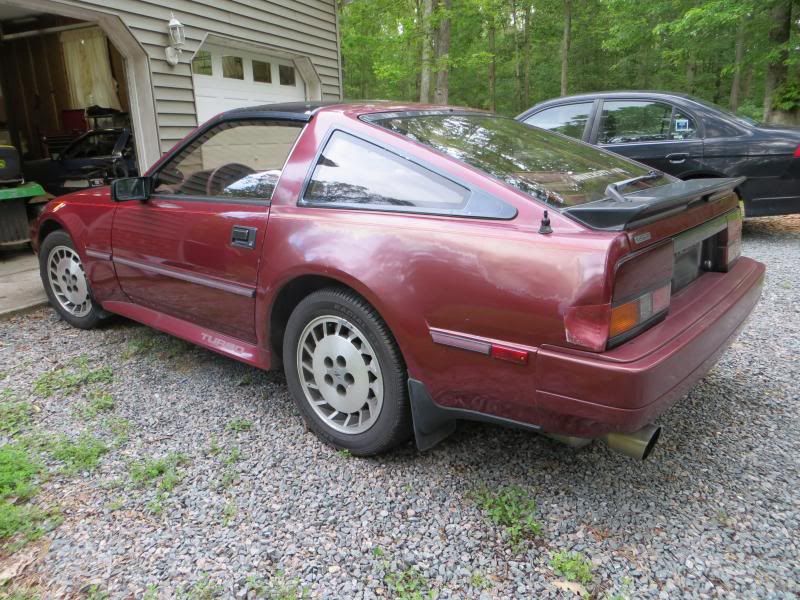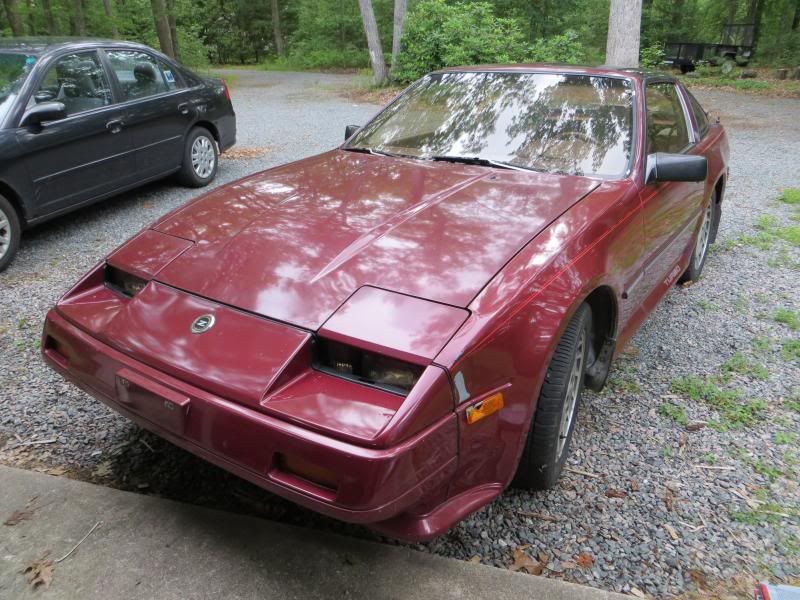 Here's a couple I took of the window sticker, if anyone is interested.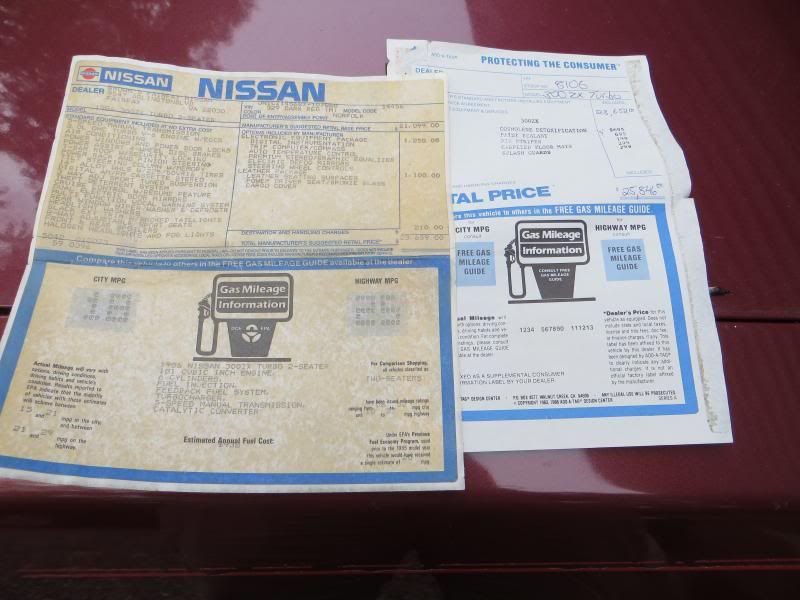 ---
6/16/2013
Did a decent bit of work yesterday. Pulled the engine and trans out of the blue Z. Got them separated. Then pushed it out and pushed the red one in. Got the engine out of that one, but left the trans in as I'm planning to use it. Put the engine from the red one on a stand, and dropped the one out of the blue one back in. Finished up last night with everything bolted in place, just need to get to work on getting all the bits and pieces hooked back up.
Forgot to get pics of pulling the blue Z engine.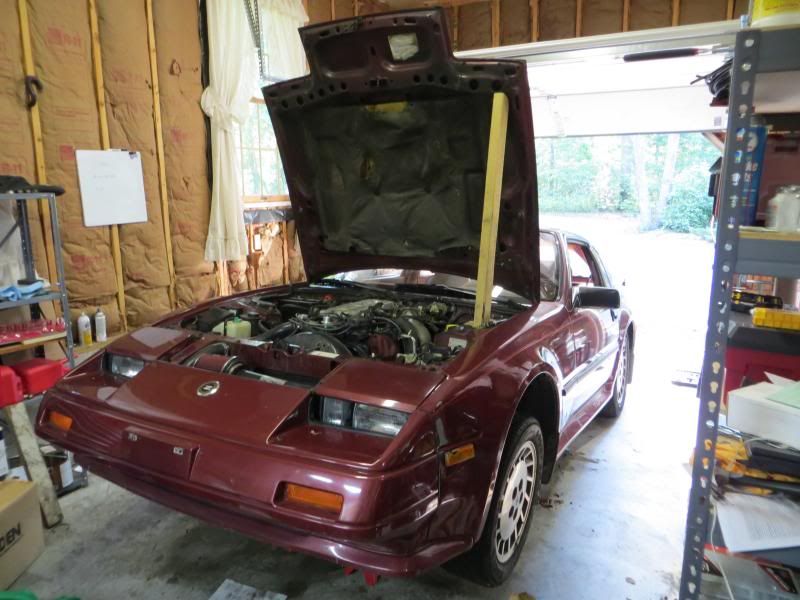 The one with the yellow PP came out of the blue one.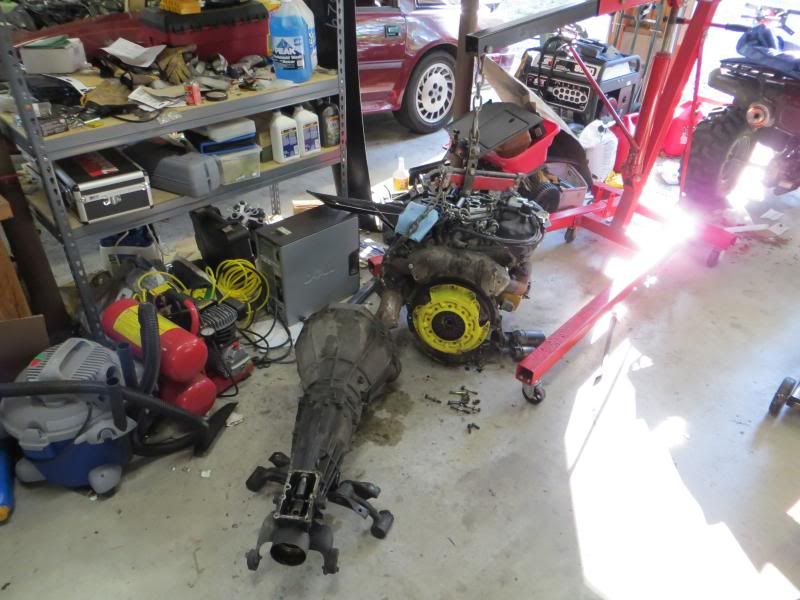 A little empty...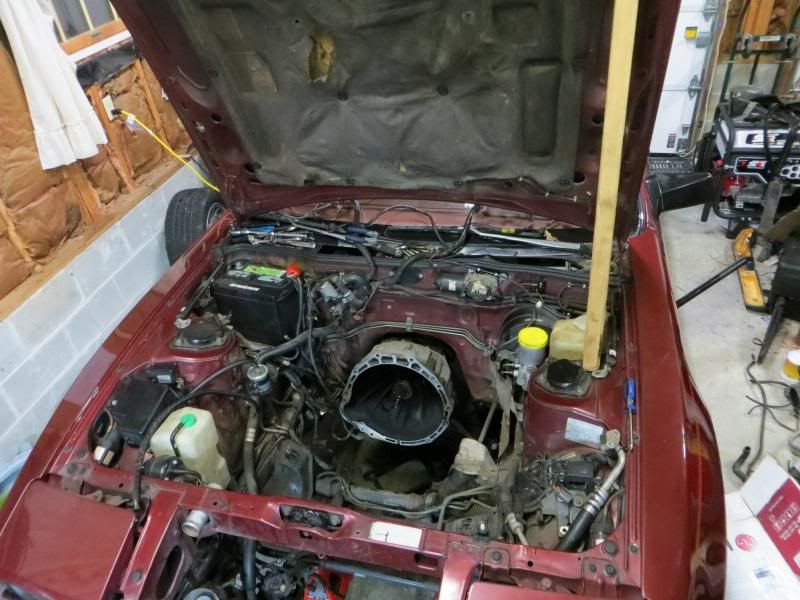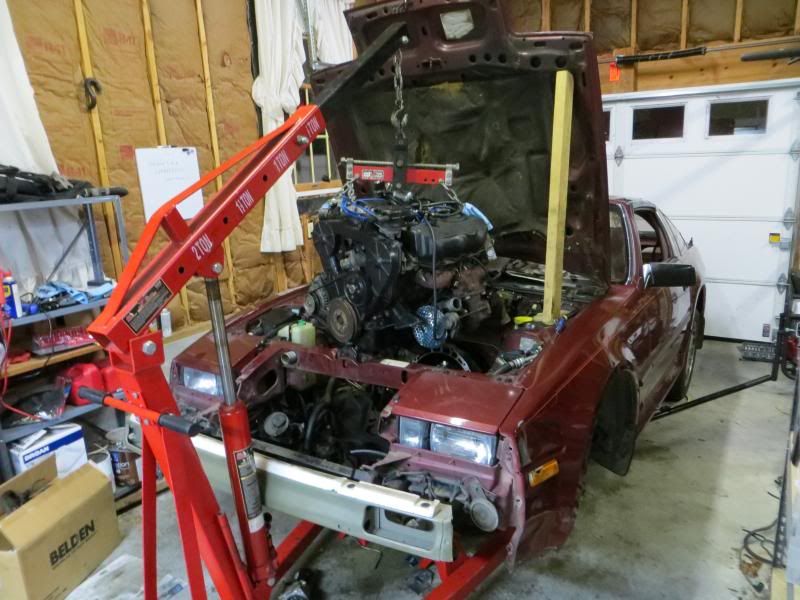 Basically done. After this we removed the lift, and put in all the bellhousing bolts, besides the one's that hold the starter. Planning to start there this week.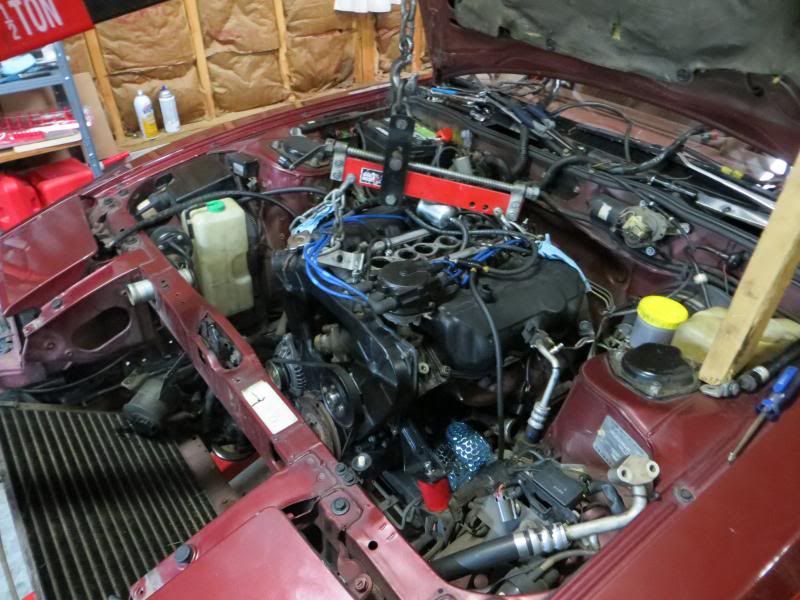 Goal is to have it running and driving by the end of July. We'll see how that goes. Want to keep AC in this one, so the IC piping will have to be rerouted.
---
Cheap, Fast, Reliable - pick two
07-03-2013, 11:14 AM
SWAGON

Road hugger


Posts: 156
Joined: Jul 2013
Reputation: 4
RE: 1986 300ZX Turbo build
Nice project!!! Bet that thing will be a blast to drive!

My dad has 5 immaculate 240z's. All with under 100k original miles and 2 with 40k or less. One is all original with original paint and the rest are brilliantly restored.
---
1999 BMW E39 touring with LSx 427 and Tremec Magnum 6 speed
2004 Volvo V70R
07-03-2013, 11:27 AM
RE: 1986 300ZX Turbo build
(07-03-2013 11:14 AM)

SWAGON Wrote: Nice project!!! Bet that thing will be a blast to drive!

My dad has 5 immaculate 240z's. All with under 100k original miles and 2 with 40k or less. One is all original with original paint and the rest are brilliantly restored.
That's awesome! The 240Z is a sweet little car. My brother has a 280ZX that's in the process of being restored. Gotta love the original though.
---
Cheap, Fast, Reliable - pick two
07-03-2013, 12:35 PM
VCUFAN
Hi I'm New


Posts: 6
Joined: Jul 2013
Reputation: 0
RE: 1986 300ZX Turbo build
Very cool build, thanks for sharing.
08-04-2013, 12:56 PM
RE: 1986 300ZX Turbo build
Looks like I'm a bit overdue on an update. That goal of running/driving by early July has been pushed to early August.
All of the suspension components have been swapped over from the old car, along with some new stuff. It's now running all the hardware from an 88 turbo on the front (tension rods, LCAs, strut tubes, spindles, and front brakes) along with a set of new Bilstein struts and Suspension Techniques springs all around. Rolled it outside after finishing that and this is how it sat.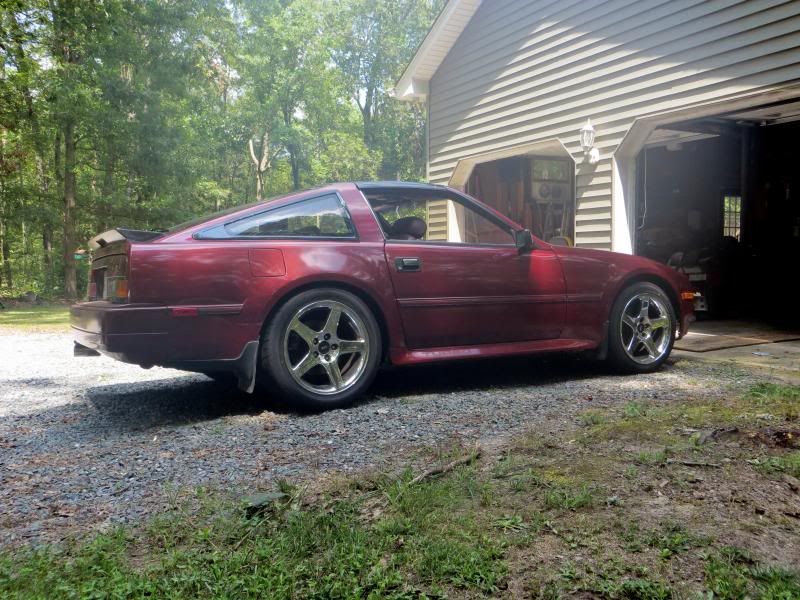 Next up was getting the intercooler mounted and plumbed. That's all finished as well.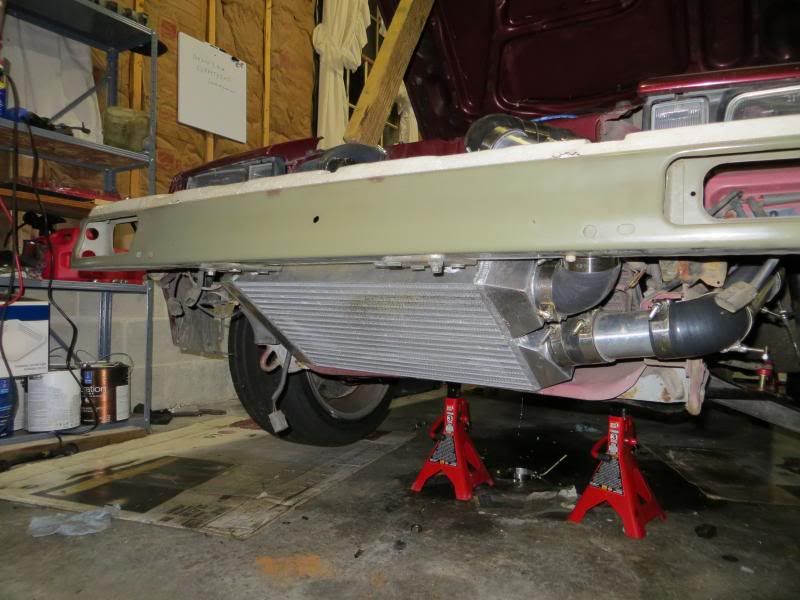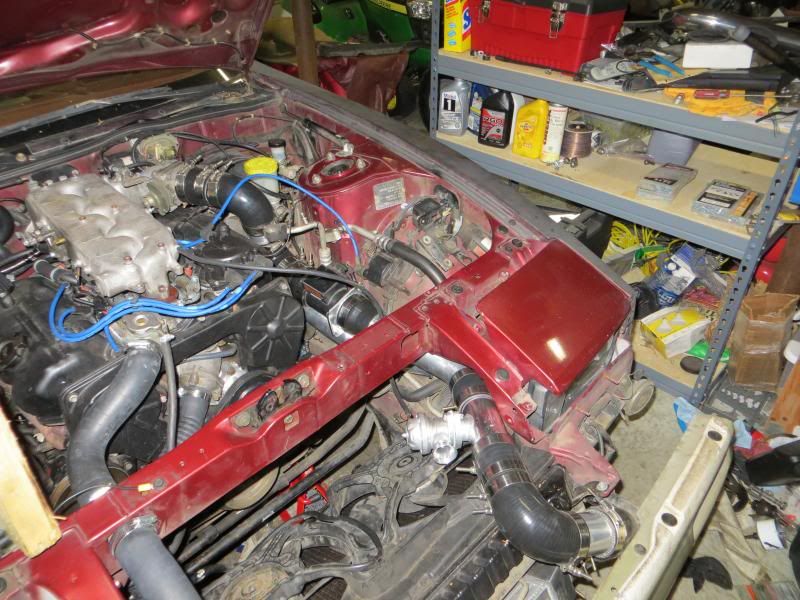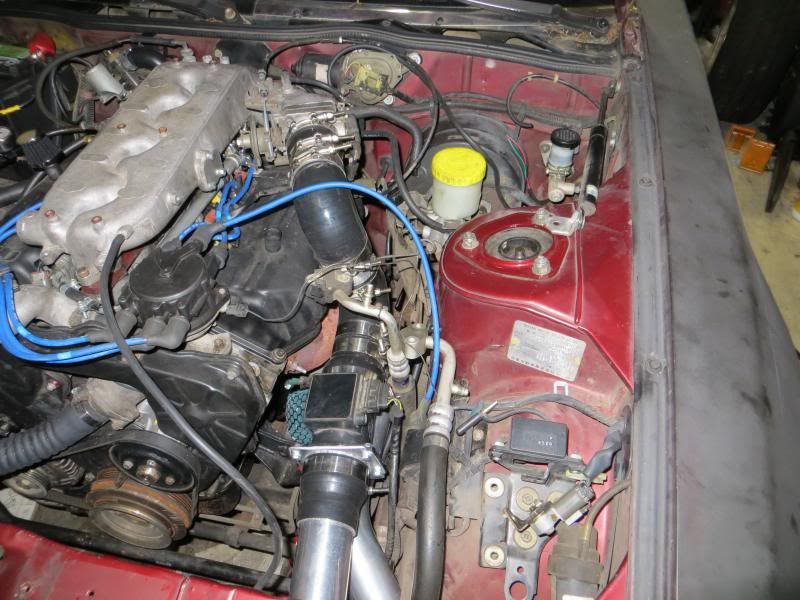 From there I moved on to the interior. The entire red interior is being stripped and a black one installed. That is mostly finished, still need to do the dash. I also will be running blue seats until I can get my hands on some black ones. I'm talking to a guy about possibly getting a set of Z32 seats to install in it. I only took a couple of progress shots of that.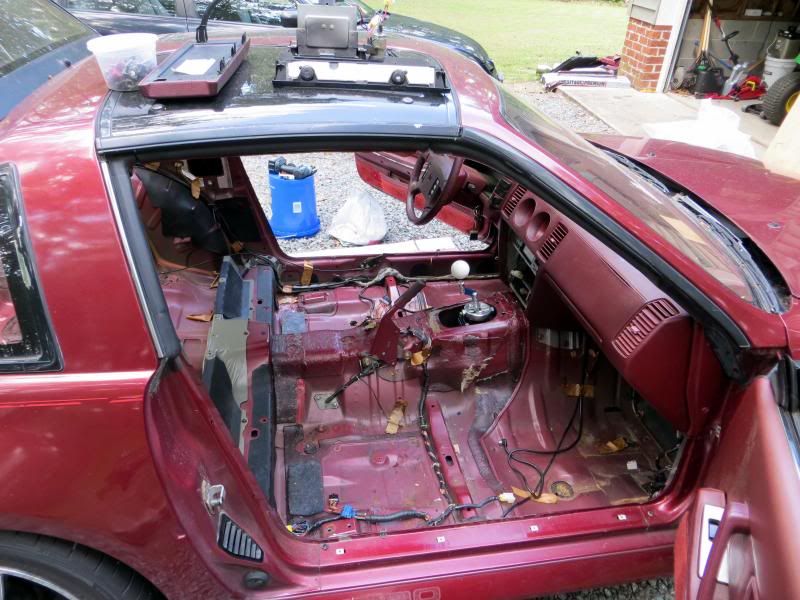 Very happy about the complete lack of rust on this chassis.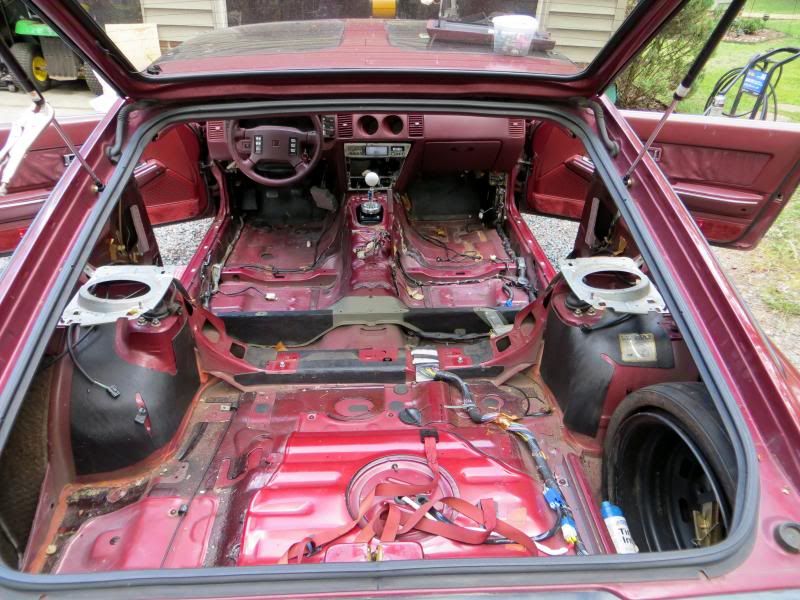 The early turbo cars ran a Borg Warner T-5, very similar to the Fox Mustangs. It's so similar in fact, that aftermarket Mustang shifters fit. So there is a Mustang short shifter installed in it now as well. You can kind of see it in the shot above.
As of yesterday it has the nose reinstalled and most of the interior. The only thing holding me up from driving it is it being in bad need of an alignment, the brake need to be bled, and it needs an inspection sticker.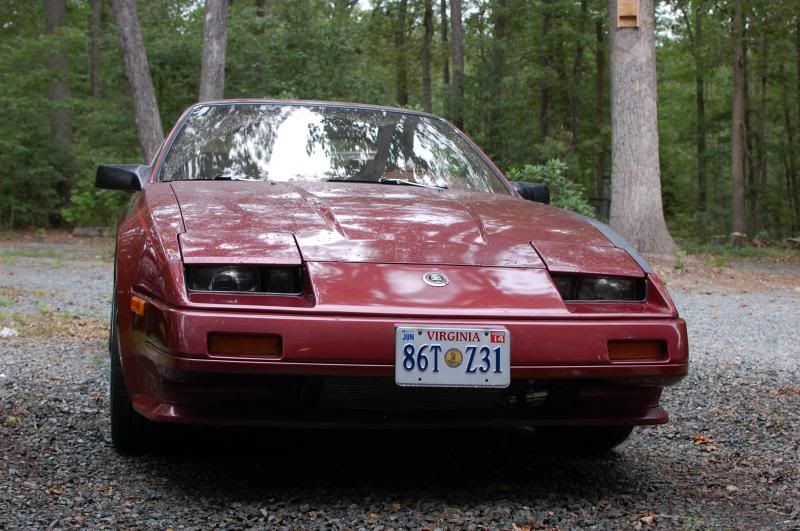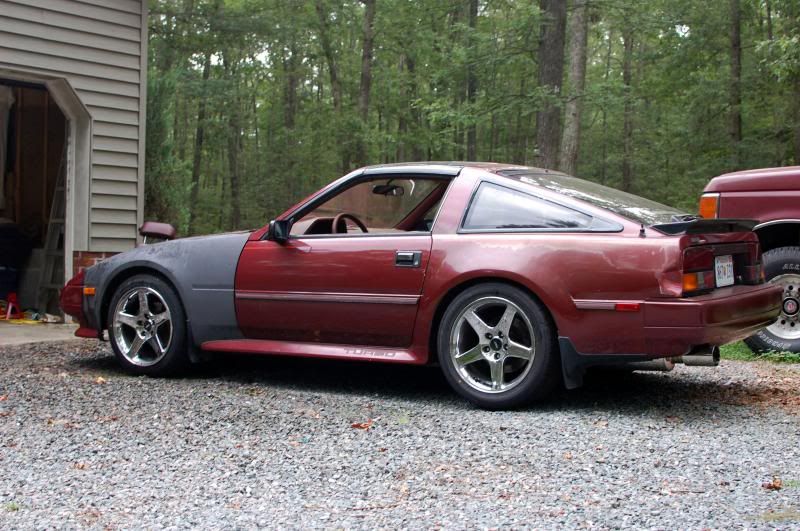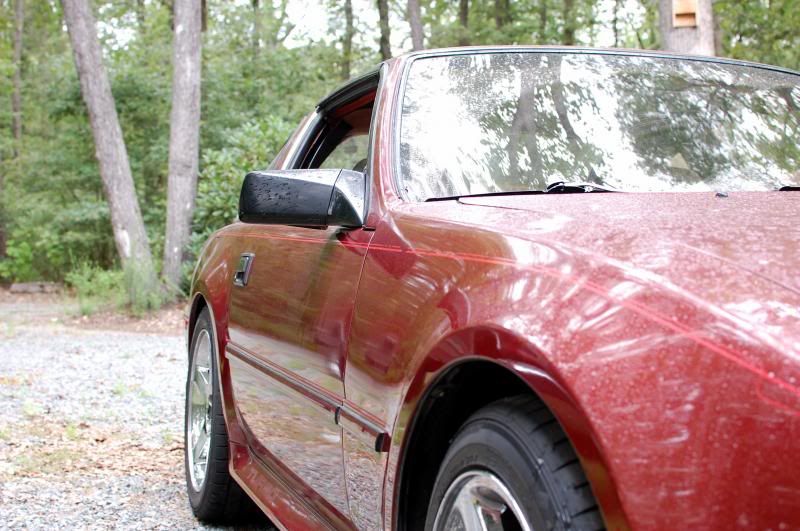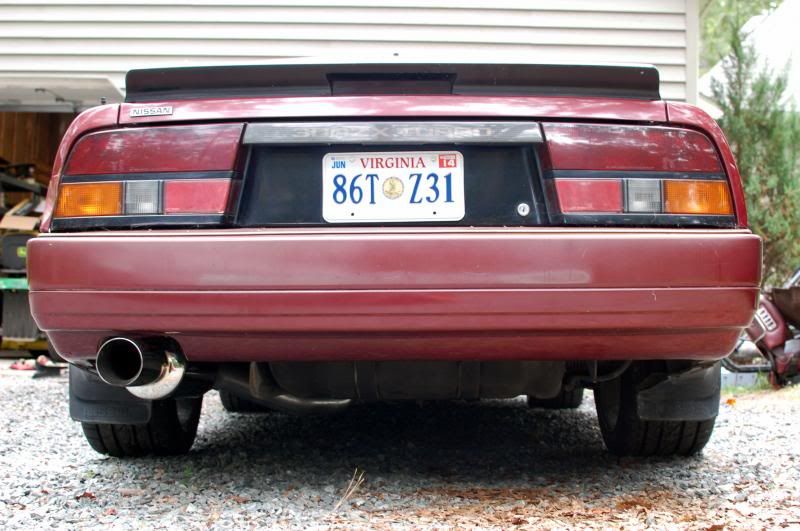 ---
Cheap, Fast, Reliable - pick two
08-04-2013, 03:11 PM
RE: 1986 300ZX Turbo build
Nice! Once it's up and running you seem like you'd get along great with some guys that meet on Fridays at the Huguenot Rd Starbucks just on the North side of the river. They're into the same era cars as you but seem to lean a bit more towards Toyota.
08-12-2013, 11:12 AM
RE: 1986 300ZX Turbo build
No pictures updates, but it's on the road now. Got the brakes bled, alignment done, and inspection done on Saturday. Drove it around a bit in the area near my house.
---
Cheap, Fast, Reliable - pick two
08-16-2013, 06:04 PM
jspirate
New Enthusiast


Posts: 49
Joined: Jul 2013
Reputation: 1
RE: 1986 300ZX Turbo build
Makes me smile just thinking about how much fun your build has been for you. Good stuff. Really good stuff!
---
Daily

|

Weekend

|

Project
08-20-2013, 12:46 AM
Hkspwrsche

Moderator


Posts: 64
Joined: Jul 2013
Reputation: 2
RE: 1986 300ZX Turbo build
Nice build. Slight detour but worth it!
---
Harold
GP white 993
08-20-2013, 10:21 AM
RE: 1986 300ZX Turbo build
(08-20-2013 12:46 AM)

Hkspwrsche Wrote: Nice build. Slight detour but worth it!
Yeah, the detour has been completely worth it. The first chassis was decent, but the new one is so much nicer.
Got to drive it to work this past Friday. Will likely bring it out to C&C this weekend.
---
Cheap, Fast, Reliable - pick two
User(s) browsing this thread: 2 Guest(s)